He's back! (Kinda.)
Many moons ago, teen sensation Justin Bieber was set to release a new song entitled 'Heartbreaker' but the track never seen the day of light – until now.
Earlier today Justin kicked off a brand new 10-week project that will see him release new music weekly. The 19-year-old will put a brand new song – or maybe even two – on iTunes every Monday as part of his "#MusicMondays" campaign.
'Heartbreaker' is the project's debut release and the mid-tempo cut was well worth the wait. Whereas Bieber's last album 'Believe' made a conscious effort to be more "mature" and perhaps a little more urban, it is very clear that the singer has found his vibe on the dreamy R&B track as he croons for his former lady's love.
Clearly written about his ex-love Selena Gomez, the song even features a spoken-word bridge that sees the star declare his wishes to reunite with his ex. Justin even referenced his ongoing heartbreak on Twitter today shortly after releasing the song.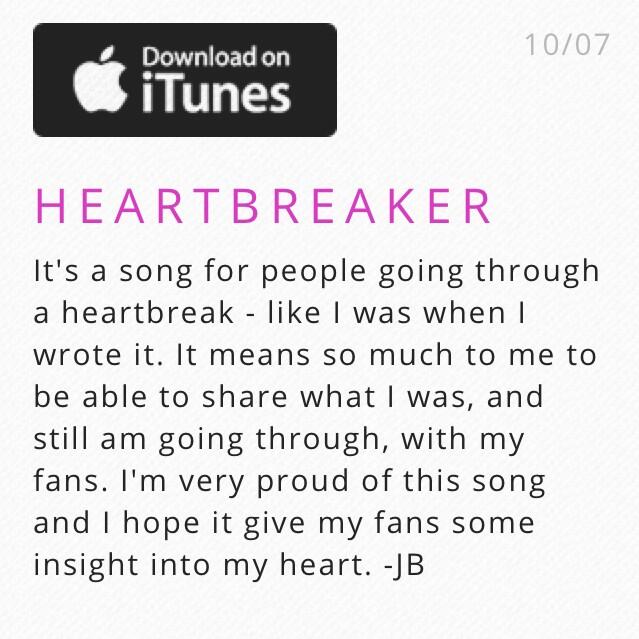 Despite his bad attitude and bad choices of the past year, Bieber's fans have clearly forgiven the star as 'Heartbreaker' hit #1 in 56 countries on iTunes within hours of its release – proving the singer's popularity is still very much intact.
If he can ditch the faux-badass persona and allow his talent to regain centre stage with solid material such as this then we are more than happy to support the Biebs.
You can buy 'Heartbreaker' now here (hell, we even did).