Miley Cyrus has outdone herself and proved her powerful status by breaking VEVO's one-day views record again.
The 20-year-old broke this record earlier this year with her comeback single 'We Can't Stop' but British boyband One Direction soon beat this with their single 'Best Song Ever'.
However, yesterday saw Cyrus release the powerful video for her new single 'Wrecking Ball' and she broke the 24-hour record with 10 hours to go. The video gained over 12.3 million view within 14 hours, and the view count is currently sitting at 14.7 million with hours to go before the day is over.
The star had promised fans that if she broke the record again then she would unveil the track list for her forthcoming fourth album 'Bangerz' and she didn't go back on her word. Immediately after breaking the record, Cyrus revealed the full tracklisting of the standard edition on her Twitter account.
1. Adore You
2. We Can't Stop
3. SMS (Bangerz) ft. Britney Spears
4. 4×4 ft. Nelly
5. My Darlin' ft. Future
6. Wrecking Ball
7. Love Money Party ft. Big Sean
8. Get It Right
9. Drive
10. Fuck You ft. French Montana
11. Do My Thang
12. Maybe You're Right
13. Someone Else
The official track list is very similar to the rumoured one we reported last month, as track #3 is in fact 'SMS (Bangerz)' featuring none other than the one and only Britney Spears. Britney is coming to save Miley and teach her how to do it properly. This is a definite single in the making, and comes just as Britney readies the release of her brand new single 'Work Bitch'.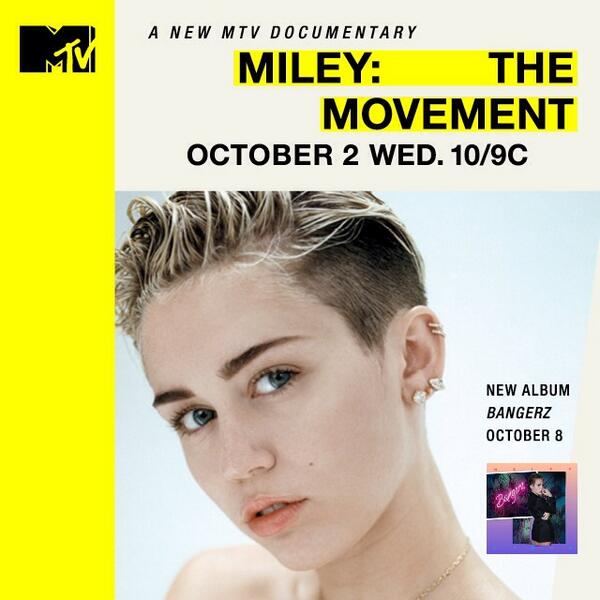 In support of 'Bangerz', Miley has just announced that an MTV documentary will air on October 2 titled 'Miley: The Movement'. The young starlet will also host and perform on Saturday Night Live on October 5.
'Bangerz' will be released October 7 in the UK, and a day later in the US.